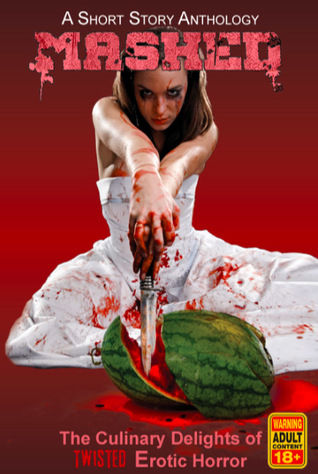 Title: MASHED: The Culinary Delights of Twisted Erotic Horror
Author(s): Grivante, John Grey, Eddie Generous, J. Donnait, Stephen McQuiggan, Brandon Ketchum, Mark Daponte, Devon Rose, Darla Dimelle, J.L. Boekestein, Alex Colvin, Steve Carr, Maxine Kollar, R.A. Goli, Cobalt Jade, Calypso Kane, Nicholas Paschall & Devon Widmer
No. of pages: 155
Genre: (Erotic) Horror, Anthology
Publication date: April 25th 2017
Date read: January 16th 2018
1.5/5 ★
---
Blurb
It's like Scary movie meets 50 shades on The Food Network!
MASHED is an anthology of 17 stories culled from over 200 submissions and includes authors from around the world.
Each story is a unique blend of horror, humor, food and sex, resulting in tales that will leave you both scared and slightly turned on, while laughing out loud and contemplating whether or not you should have your next meal.
The 17 Sensually Sinister Stories include –
A Woman's Corn – Two secret lovers with more secrets then either of them knew, brings about a special witches brew while the devil stews.
By J. Donnait
Charlies Chunky Munching Meat – A tale of obsession over a certain pink meat, gone too far.
By Stephen McQuiggan
Halloween Nosh – Two old-world vampires celebrating their love during the holidays with a special feast in the dungeon.
By Brandon Ketchum
Biscuit: A Love Story – A baker's dreams destroyed by a homeless man with unnatural hungers, leads to super-natural revenge.
By Grivante
Burnt Scrambled Eggs – What happens when your succubus lover stays over for breakfast?
By Devon Widmer
The Disagreeable Dinner – Ever eaten a bad meal? Not like this one. Join us for this strange and hilarious case of food poisoning
By Mark Daponte
Sugar – Honey is sweet, but when a potential sugar daddy turns out to be one of her high school teachers, a night of planned BDSM fun ends in a most unsavory of ways.
By Darla Dimmelle
The Henry Problem – Fruit as an aphrodisiac, exorcisms for dummies? All that and more!
By John Grey
Nibble, Nibble, My Wolf – It's all the rage to reimagine fairy tales these days and this story gets it right in the most beautifully twisted and erotic way.
By J.L. Boekestein
The Wrath of the Buttery Bastard Taters – GMO's are out of hand. A couples romantic dinner turns into a nightmare when their frankenfood decides to eat them instead.
By Alex Colvin
Sauce – When cooking lessons lead to a new fetish, narcissistic Bart, takes self-satisfaction to a new level.
By Steven Carr
The Care and Feeding of your Personal Demon – Be careful what you wish for. Sometimes, asking for a little help from down below can come with a lifetime of demented and hilarious torment.
By Maxine Kollar
P.A.C.D. The Kitchen of Tomorrow, Today! – Advancements in technology are often quickly perverted for sexual experimentation. Find out what happens when a couple's cooling romance heats back up with a new kitchen appliance.
By R.A. Goli
Arabica – Do you like coffee? Maybe a little too much? Here's a tale of a woman using BDSM aversion therapy to overcome her caffeine addiction.
By Cobalt Jade
Toilet Manners – Marital impropriety leads to the strangest meal of a man's life after a visit to a glory hole inside a fancy french restaurant.
By Eddie Generous
The Stray – Is the story of a man's lifelong dedication to helping strays. But, what happens when one gets a little upset when he announces he is moving away.
By Calypso Kane
The Old Man in the Suit – Voodoo and baked goods outside a lesbian bar during Mardi Gras.
By Nicholas Paschall
---
Review
I had absolutely no idea what to expect when this short story collection was sent to me for review. I didn't know how the authors would combine horror, food and sex in seventeen different stories. Somehow … they did it – be it that the stories were super weird and not really scary or thrilling at all. Imagine a biscuit so soft and sweetly scented that it gets gangraped by a group of bums. Yep, weird.
When I think of "erotic", I don't exactly imagine the scenes of MASHED. In my opinion, most of them were not erotic – they were just about sex, the genitals or panties. They weren't sensual nor consensual in some cases. That's not erotic. That's rape.
Nevertheless, the writing of each story was quite good! Besides the extreme weirdness of most of them, all of them actually made sense when it comes to chronology!
My favourites of the stories were:
– "Sugar" by Darla Dimelle
– "The Wrath of the Buttery Bastard Taters" by Alex Colvin
– "P.A.C.D. The Kitchen of Tomorrow, Today!" by R.A. Goli
– "Arabica" by Cobalt Jade
* I received an ecopy of this anthology in exchange for an honest review *